Tuesday, December 4th, 2018 (7:46:31 PM)
Thursday, January 3rd, 2019 (7:46:31 PM)
Hello Preschool Parents: Please remember the preschool will be closed from December 21st to January 1st for the holiday break. Happy Holidays and we will see you on January 2, 2019.
Meet the Director
December 3rd, 2018
Hello and Welcome to St. Mark's Pre-Kindergarten,
My name is Lynn Hudson and I have been the director for over seven years at the preschool. I started my teaching career with New Castle County Head Start, INC from 1999 to 2012. In May of 2012, I made a career change and it has been the best decision of my life. I truly LOVE being the director of the preschool and it is the most rewarding job!!! I am very fortunate to have the best preschool teachers and staff, the most wonderful families and the most amazing preschoolers. So, YES, I am beyond blessed.
I have been married to my husband, Larry, for over 20 years and we have 4 children and they are Jacob, Noah, Jonah and Abby. We also have three dogs which are all labs, Trigger, Gunner and Diesel. We are a very busy family, but I would not want it any other way.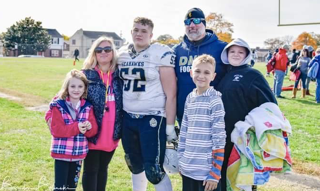 During the summer, I like to spend time at pool, at the beach and most of all I love to go on vacation to Tennessee. The summer is actually my favorite season!!!
As of this month, I am completing my Master's Degree in Educational Studies. It has been a long road, but I am almost at the finish line.
Stop by office anytime to chat and my door is always open.
Blessings,
Mrs. Hudson
Director's Notes
December 2nd, 2018
Hello Preschool Families,
Happy December!!! It is hard to believe we are already in December. Before you know it.....summer camp will be here!! Here is some important information:
*In-House registration will begin in January 2, 2019. Applications will be available in the Narthex as of December 5th. Applications will not be accepted until January 2, 2019. Your application must include the school registration fee of $70.00. Please remember this a non-refundable fee.
*Preschool Tours will begin on January 22, 2018. Tours are about 20 to 30 minutes long and we welcome the whole family to join the tour. Tours begin at 9:30am and end at 11:30am.
*Community Registration will begin on January 22, 2018. This is for families who will be new to the preschool. All applications must include the school registration fee of $70.00. Please remember this a non-refundable fee.
Happy Holidays,
Mrs. Hudson
Openings
November 30th, 2018
As of November 30, 2018, the preschool has the follow openings:
2 Day 2's (Tuesday/Thursday) has 1 opening. Your child must be 2 by August 31st.
2 Day 3's (Tuesday/Thursday) has 1 opening. Your child must be 3 by August 31st.
3 Day 3's (Monday/Tuesday/Thursday) has 2 openings. Your child must be 3 by August 31st.
3 Day 3's (Monday/Wednesday/Friday) has 1 opening. Your child must be 3 by August 31st.
3 Day 4's (Monday/Wednesday/Friday) has 3 openings. Your child must be 4 by August 31st.
5 Day 4's (Monday to Friday) has 1 opening. Your child must be 4 by August 31st.

Classroom Ratios
September 1st, 2018
Here are the classroom ratios:
2 year old classes are 10 children/2 teachers
3 year old classes are 14 children/2 teachers
4 year old classes are 15 children/2 teachers

Children do not have to be potty trained to be accepted into the preschool. Mrs. Hudson is in-charge of changing diapers or pull-ups.
Parent Testimonial
May 24th, 2018
My husband and I cannot say enough good things about St. Marks Preschool! From the minute we first toured the school, we knew it would be a perfect fit for our son, who started the program at 3 years old. It was our first time enrolling him in preschool and we immediately felt comfortable. We knew this would be a safe environment for our son to learn and grow, without ever having to worry. Our son is always excited to go to school! All of the staff are warm and friendly, his teachers have been incredible and are truly nurturing and caring, helping to make our experience an overwhelmingly positive one. We feel so lucky to have had such a wonderful experience with St. Marks.
Fischetti Family
Parent Testimonial
May 23rd, 2018
We love St. Marks, after sending our eldest we knew that our other two younger children would definitely attend when they became of age! The way the teachers speak to and interact with our children show us they really care about them. Our family has recently begun a restrictive diet and we have had several communications from different teachers at St. Marks making sure the foods offered to our daughter during her school day comply with her dietary needs. It is easy for an administrator to be back in an office working on all the paperwork that I'm sure goes with the job. Mrs. Hudson, however, is a constant smiling presence at the beginning of the school day and at dismissal. She knows us ALL by name and outside of school makes an effort to come say Hi to the family at places like the baseball field or our children's school. We would highly recommend St. Marks - we're lifers!!!
Yeager Family
Parent Testimonial
June 23rd, 2017
My children truly enjoy their experience in this preschool. Every teacher welcomes us with a big, warm smile every morning when we enter the school. The classroom setup is fun and keeps the children interested yet not so busy to make them confused. My children especially enjoy the different classes and special projects the school provides. I have seen my children grow so much through out the years they are in school and I appreciate the heart and love that were poured out to them.
Rita Lin

Parent Testimonial
May 20th, 2015
St. Mark's was recommended to us by no less than 10 people who had children that had gone there and had loved it. I traveled up from South Carolina on a cold January day in 2013 and took a tour of St. Mark's and a couple other schools for duo diligence. While all the schools were good, St.Mark's was the best fit for our family. I loved the size of the school and classes and that the building was secure. I loved that there were options for us to sign her up for either a 2 day or 3 day. I liked that the schedule was 9 a.m. till 11:45 a.m. and not full day. I decided to send her Monday, Wednesday, and Fridays. She had some initial separation anxiety, but by the time the year was over she had come out of her shell. She loved making crafts, singing songs, and circle time. She had a fantastic year with Mrs. Frazer and Mrs. Plummer in 3 Day 3's.
We loved St. Mark's so much we signed her up for the 5 Day 4's this fall. I cannot tell you how much my little girl has learned and grown in these 8 months. She was not able to write the first letter of her name on the first day of school and today..... Well. let's just say that now she likes to practice writing her name on EVERYTHING. She knows her numbers and countless other things I could go on and on about. She came home happy and full of things to talk about wanting to share about her day. She walks around the house singing songs that her teachers have taught her and tries to teach them to her brother. She has made good friends and learned about how to get along with others. She has become a little girl, not a baby, full of confidence and ready to take on the world.
Tomorrow is my daughter's closing ceremony, it will be her last day at St. Mark's. She will be starting Kindergarten in the fall. We will miss this school. We will miss the friends that have become like family to us. We will miss the teachers that we will remember as my daughter grows.
Choose St. Mark's Preschool, become part of family- you won't regret it.
Andrea Orr
Parent Testimonial
October 17th, 2013
When sending our twin girls off to school for the very first time, we know now that we made the right choice by choosing St. Mark's Pre-School. When the time came to look for the best fit for our girls, we looked at several places, but always came back to St. Mark's. The Christian atmosphere and the warm and welcoming environment is what drew us in to this particular school. The staff is very welcoming and the hallway are adorned with the children's work and pictures of students involved in fun school activities, which made it just an all around fun place to be! After all, school should be fun!
Now with five weeks of school under our girls' belts at St. Mark's we feel even more affirmation with our decision. Both of the girls were very excited to begin school! Everyone started off on the right foot and things are going smoothly. In fact, things are going so much better than we could have ever hoped! We were so impressed that within the first few days of school they had established a routine at school and were able to tell us all about it! Each day they come home from school we ask about their day and while we don't get many details, we always hear things like, "It was fun!" "It was awesome" or "I had a great day!" And every so often we hear them singing a little song they learned or talking to one another about something they did that day at school. Sometimes we even try to sing the songs that we know are routine at school, but we are politely told that we can't sing them because that is for their school! They definitely take pride in what they are accomplishing each day at their school!
Not only are the girls excited to get up and get ready for school, but they are excited to be greeted every morning by the amazing Mrs. Hudson! Mrs. Hudson, the outstanding director at St. Mark's, was absolutely another reason for our choice in this school. She has this amazing ability to know everyone and greet them by name, even the baby sister! She greets the kids with a wave, a high five, or a hug. The safety and care of the children at St. Mark's is always the top priority for Mrs. Hudson, which helps me to feel at ease as I pull away from dropping the girls off each day. As the girls enter the building and make their way down the hallway to their classroom they are gearing up to greet their teachers with thumbs up and ready to give a "thumb kiss". It is something so special and simple that their teachers, Mrs. Zolandz and Mrs. Carisch, do with them that makes them feel at home in their classroom. I always hear how the girls are excited to see their teacher and friends at school. I also enjoy the interaction I have with the teachers when I sign my girls in and out each day. Mrs. Zolandz always makes time to tell me what a great day the girls have had!
Having taught before having children of my own I never really grasped what it was that the parents felt when sending there little ones off to school, I know that feeling now and I am thankful that the staff at St. Mark's is aware of that feeling as well. I appreciate the comfort they provide the mom sending her precious little ones to school for the very first time! Hands down, when looking for the best place to send our girls, we know for sure that we made the right choice!
Anne Delmonico
New Parent to St. Mark's Pre-Kindergarten